PEACH TEA

REGULAR STRENGTH
200% better than a regular bottle of Peach Tea. Our Peach Tea 5-hour ENERGY® shot is guilt-free with only four calories, none of the nasty sugar crash, and ALL of the peachy goodness of a peach! Featuring natural caffeine from tea leaves, every Peach Tea flavoured 5-hour™ ENERGY® shot is packed with the refreshing and sophisticated flavors of peach and tea.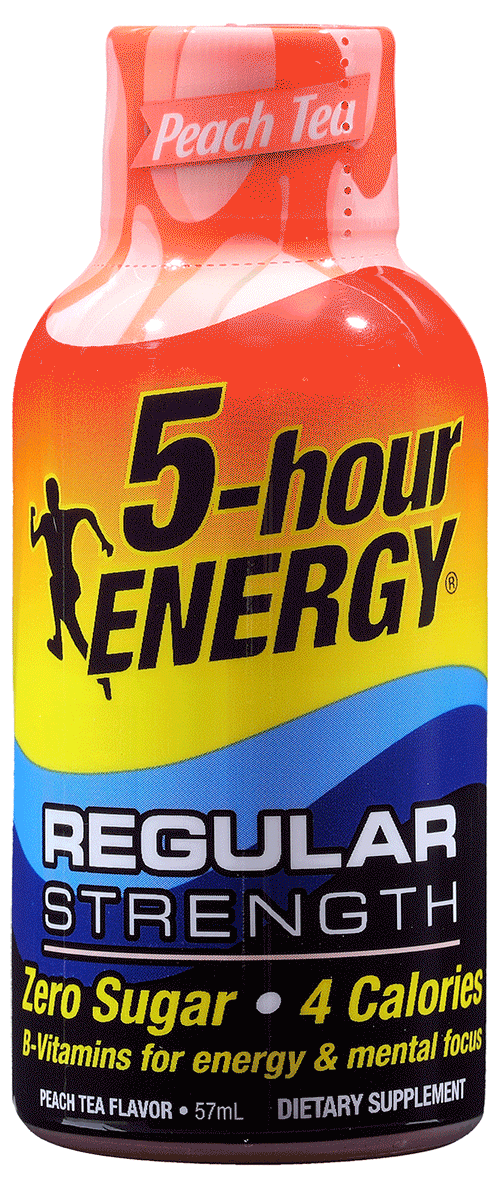 Thanks so much for my birthday treat 🙂
Steve Boey on 9th May 2021
It really works for 5 hours only. I am 51 years old and driving Grab. It gives me the energy to drive non stop for 5 hours and it makes you feel young again with vitality. I wish it can be extended to 12 hours. I definitely recommend it to everyone who needs the energy in both brain and body. It really makes you stay awake with full concentration. Thank you for producing such a fantastic and tasty energy drink.
Thanks so much for my birthday treat 🙂
Steve Boey on 9th May 2021
PEACH TEA REGULAR STRENGTH
5-hour ENERGY® SHOT CONTAINS:
Purified Water, Natural and Artificial Flavours, Choline Bitartrate, Taurine, Acidity Regulator (Malic Acid), L-Phenylalanine, N-Acetyl L-Tyrosine, Caffeine from tea, Sweetener (Sucralose), Vitamin B6, Vitamin B3, Salt, Preservative (Potassium Sorbate), Vitamin B12.
Niacin plays a key role in converting fats, proteins, carbohydrates and starches into usable energy.* This 5-hour ENERGY® ingredient can also be found in food sources including: meat and dairy products, leafy vegetables, broccoli, tomatoes, avocados, nuts and whole grains.
Vitamin B6 is found in a wide array of foods including fortified cereals, beans, meat, poultry, fish, fruits and vegetables. It plays a key role in the production of amino acids, which are the building blocks of protein. Vitamin B6 is also used in the creation of DNA and is involved in over 100 crucial chemical reactions in our bodies!
Vitamin B12 is involved in a variety of important bodily functions including the production of amino acids and the processing of carbohydrates into energy.
Choline bitartrate is a salt form of choline, a nutrient which is essential for your brain and nervous system to regulate memory, mood, muscle control, and other brain and nervous system functions. Choline is commonly found in meat and dairy products, broccoli, beans, nuts, seeds, and whole grains.
This ingredient is a naturally occurring chemical substance present in meat, fish and dairy products. Taurine can be found in the white blood cells, skeletal muscles, heart and central nervous system of human adults. Taurine plays a role in digestion, and is used to process potassium, calcium and sodium in the body, as well as maintain the integrity of cell membranes*.
Found naturally in fruits (especially apples), Malic Acid is synthesized by the body during the process of converting carbohydrates to energy.
Phenylalanine is an essential amino acid that enhances alertness*. It is found in dairy products, avocados, legumes, nuts, leafy vegetables, whole grains, poultry and fish.
This 5-hour ENERGY® ingredient is an amino acid that transmits nerve impulses to the brain. Tyrosine is found in meat, dairy, fish and grains.
Regular Strength 5-hour ENERGY® shots contain caffeine comparable to a cup of the leading premium coffee. Caffeine provides a boost of energy and feeling of heightened alertness*. Contain natural caffeine from tea.
A natural metabolite found in the human body, Glucuronolactone is produced by the metabolization of glucose in the liver. It has been shown to reduce sleepiness*.
frequently asked questions
What is a 5-hour ENERGY® shot?
5-hour ENERGY® shot is an essential blend of B-vitamins, amino acids and nutrients, formulated into a dietary supplement to keep you alert and energised for hours. It has zero sugar, only 4 calories and made from natural ingredients found in vegetables and fruits.
How much caffeine is in a 5-hour ENERGY® shot?
Each bottle of 5-hour ENERGY® shot contains about as much caffeine as a cup of the leading premium coffee.
Some people are sensitive to an increased amount of niacin (Vitamin B3) in their body, resulting in warm, redness of the skin. This condition of increased blood flow to the skin is also known as "flushing" and will disappear in a few minutes. To avoid this, consume only half a bottle first and save the rest for later.
How many bottles of 5-hour ENERGY® shots can I take per day?
Individual results may vary. Some fans can take the maximum daily amount of 5-hour ENERGY® shots (maximum two bottles a day, to be consumed several hours apart), while others may consume less to be re-energised. For a start, try half a bottle, wait for about 10 minutes before deciding if you need more.
Do 5-hour ENERGY® shots contain animal products?
Our shots do not contain any animal product.